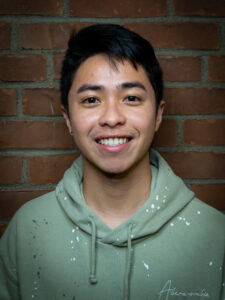 JUSTIN FUENTES
Hey guys, Justin here. It'll be my first time performing on stage. To be honest, I don't have that much experience in the theater but one thing is for sure, I love singing, performing, and playing instruments. Aside from working in the healthcare field, music is my passion. I'm thrilled and at the same time also kind of nervous but I know that it will turn out to be great and I just have to enjoy the moment. I would like to thank the whole crew of Bent Broadway, my Glens Falls Hospital laboratory family, my family and friends from the Philippines, as well as the supporters of this show. Have a good day!
Justin, Congratulations on your musical debut! You are impressive in so many ways. – Your GFH Lab Family 
STEPHANIE GRZEGORZYK
I am a just a 29 year old General Manager of a restaurant, dog mom and Music AS degree holding woman who is still trying to maintain her childhood dream. It was never fame and glory I reached for, I just want to sing for people and bring them as much joy as it brings me doing it.
MICHELLE HUCK
Michelle is very excited to perform on stage again after a long hiatus. She received a High School award from the Schenectady Light Opera Company for her role as Mr. Toad in The Wind in the Willows, as well as played Esther from Meet Me in St. Louis. Her love for musical theater and the ability to transform into someone else has always been a fun outlet and passion of hers. She is thrilled to perform one of her dream songs which beautifully tells a story surrounding the complexity of relationships, love, and life which so many people can relate to. Encouraged by the bold, fearlessness of her daughter, the tenacity and loving spirit of her son, and the love and support of her husband, Michelle was inspired to pursue her passion and dream of performing once again. She is grateful for all of her friends and family for their love and support.
RILEY KEYSER
Riley Keyser is from Glens Falls, NY. It has been 4 years since they have been on stage and are excited to get back into performing!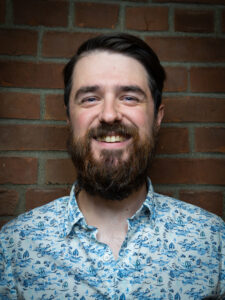 MICHAEL NICHOLS-PATE
Michael Nichols-Pate is happy to be making his return to the Charles R. Wood Theater stage. Past community theater credits include: Rent (Angel), Assassins (Giuseppe Zangara), Seussical (Cat), The Diary of Anne Frank (Mr. Dussel), A New Brain (Gordon Schwinn), and Bare: a Pop Opera (Alan). Currently, Michael can be found monthly on the Cross Border Interviews as its entertainment correspondent/theatre critic. Michael also serves as the Executive Director for the Bunbury Players, and will be producing the troupe's upcoming production of "The Heidi Chronicles" at the Albany Barn in early November. He is thankful to the cast and crew for their tireless work. Michael would also like to thank his friends, family, and most importantly, his loving and supportive husband.
ALLISON RAMBLER
Allison Rambler is so excited to be making her New York State debut! Allison recently moved to the area from York, Pennsylvania with her fiancé Noah and now lives in Queensbury. She graduated from Penn State University in 2020 with a degree in Photojournalism and is the Marketing Associate at the Saratoga Performing Arts Center (SPAC) in Saratoga Springs. Allison's previous theatre credits include THE LITTLE MERMAID (Ursula), HAIRSPRAY (Tammy), THE PILLOWMAN (Michal), ORDINARY DAYS (Deb), OUR TOWN (Mrs. Gibbs), HIGH SCHOOL MUSICAL (Coach Bolton), THE SPONGEBOB MUSICAL (Mayor of Bikini Bottom), and STEEL MAGNOLIAS (Annelle). Allison would like to thank her fiancé Noah for all of his love and support, as well as this wonderful team for putting together such a special performance and taking a chance on a newcomer. She can't wait to keep working with you all. Enjoy the show!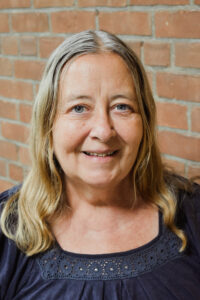 BEVERLY SEINBERG
Bev is a returning "Bent Broadway" cast member who also appeared on the Wood stage earlier this year in "Spoon River Anthology." She returned to theater after a decades-long hiatus in 2018 as the Bird Woman in "Mary Poppins" with Schuylerville Community Theater. She has also performed with SCT in the ensemble of "Baby" (2019) and as the Grinch in "Seussical" (2022). A copywriter/communications specialist by day, Bev is active in the area folk music scene and performs with the jazz band Swing Shift and the Pokingbrook Morris Dancers. She is excited to be back for this year's "Bent Broadway" with friends old and new.
FIONA TAYLOR
I have done many shows in the past. whether with my school or another company, theatre and singing was something I was always looking to do. I have never done a show with this company before but I always look forward to new experiences.
SARA TERRY
Sara is a Glens Falls native and so happy to be returning to the Wood Theatre stage for Bent Broadway. Sara lives in Queensbury with her husband Andy, daughter Mira and two cats, Violet and Fern. Thank you to the whole productions team for making this such a fun experience.
KEVIN TRAPASSO
Kevin Trapasso is thrilled to be apart of Bent Broadway for the second year! Kevin has been performing on the Wood stage since he was 16 years old and loves to come back each time. Kevin spends his summers in Glens Falls and his winters in Sarasota, Florida. He is currently the Assistant Conductor of the Choral Artists of Sarasota- a professional paid chorus who performs choral masterworks around the area. Previous theater credits include: ONCE ON THIS ISLAND (Music Director/Agwe), THE ADDAMS FAMILY (Director), SPELLING BEE (Director), and LITTLE SHOP OF HORRORS (Director). He has also performed in the Game of Thrones, Zelda and Final Fantasy live tours, and conducted the National Anthem at a Tampa Bay Buccaneers game. He would like to thank his friends and family for their support and of course his husband for everything
BRANDON UHE
Brandon (31) is from Queensbury, and a graduate of QHS. Brandon has always had a love of music, and attributes it largely to his father and his highschool instructor Penny Schiek. Brandon also participates in productions with the Hudson River Shakespeare Company, and has appeared in productions like 'Sherlock Holmes and the Sussex Vampire' and 'Much Ado About Nothing'. After several years of not performing musically, Brandon is excited to return to the stage to share his love of music again!
MARGARET WARRINGTON
Margaret is very excited to return to the Wood Theater for another production of Bent Broadway. She would like to thank everyone who has supported artists and their dreams, especially during these past few challenging years. Dream On!
PHOEBE WELLS
Phoebe is so excited to be joining this year's cast of Bent Broadway. She grew up on the stage, performing for Corinth Central School productions and Joy of Movement Dance Studio. Her favorite roles were Sandy in Grease and Cinderella in Into the Woods. In the ten years between her last performance and Bent Broadway, she has earned a bachelor's degree in communications, worked as a news anchor and reporter for iHeartRadio and currently is the Assistant Director of Enrollment Communications at SUNY Adirondack. In her spare time, she runs March First Media, a freelance writing and marketing business. She lives in Chestertown with her partner and two adorable and highly-vocal huskies.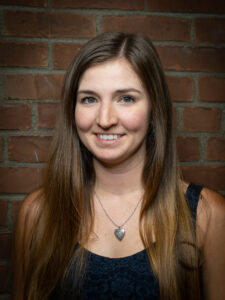 EMILY WHIPPLE
Emily is very excited to be joining Bent Broadway this year. She is currently a teacher at Abraham Wing Elementary School. Emily is very happy to be back performing at the Wood Theatre. She would love to thank the whole production team for this opportunity and for making it such a great experience.
MATTHEW GAULIN
Matthew Gaulin is the Choral Director at Queensbury High School. He directs two curricular choirs and the auditioned group, the Queensbury High School Madrigal Singers. He also serves as the Music Director for the Queensbury High School Musical. He attended the Crane School of Music where he earned his BM in Music Education with a concentration in voice. He later earned his MS in Curriculum Development and Instructional Technology from SUNY Albany. He is a Hudson Falls native and resides there today with his two cats, Chester and Dexter. This is Matthew's second year as the Music Director of Bent Broadway and he is excited for everyone to see the amazing talent of the 2022 cast.
EMILY MURPHY
Emily is so proud and honored to bring Bent Broadway back for a second year. Emily has been Executive Director of the Wood Theater for over 5 years now and considers this project among her greatest professional achievements. She holds a Master of Arts in Arts Administration from Castleton University as well as a Bachelor of Arts in Rhetoric and Communication/Minor in Theatre from the University at Albany. In 2020, Emily was honored as one of the Post Star's 20 Under 40 recipients. In addition to directing Bent Broadway, Emily also participates in Art In the Public Eye/Wood Theater 24 Hour Play Fest annually as a director. When not at the theater (which is a rarity) Emily actually resides in Hudson Falls with her son – 8 year old pitbull, Murray and his grandma who she thanks immensely for her support in all things life. Emily is immensely proud of and grateful to this entire cast and crew for putting this show together and can't wait to do it all again next year!
SHELLEY FAIRBANKS
Shelley is ecstatic to be on the Bent Broadway production crew once again. She recently celebrated her 5 years as the Wood Theater Box Office Manager & Volunteer Coordinator in May of this year. When not involving herself with theatre (both on and off stage) in her free time she also enjoys creating art and was nominated as the Post Star's 2022 Best of the Region Local Artist. Shelley finds this show and the conversation it creates incredibly important. She is so proud of the cast and also glad to work alongside Emily Murphy and Matt Gaulin who are endless sources of inspiration (and laughter) and her newlywed husband Jereme whom she just married last Saturday!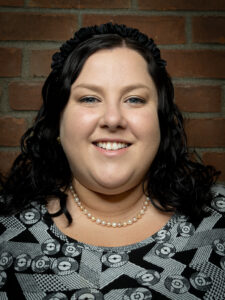 NICOLE MCDONALD
Nicole is very excited to be stage managing Bent Broadway for the second year! She has been creating magic backstage for over 12 years as a stage manager and director. Nicole is also one of the creators of Company of Curiosities, a new theater group focused on experimental and immersive theater. She would like to thank her family for their continuous support and the Bent Broadway production team for this opportunity!