Fill Our Seats: ACT II Dollar for Dollar Match!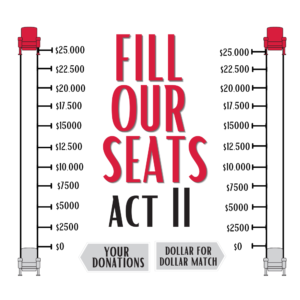 The first round of our Fill Our Seats Campaign had a goal of $100,000 by the end of February. Thanks to your incredible outpouring of support, we got to 44% of that goal. Also incredible, was an anonymous member of the community approaching a Wood Theater Board Member to propose a dollar for dollar match up to $25,000!
Every dollar you contribute between now and March 19th will be matched dollar for dollar by this anonymous donor! Now is the time to give and double your impact!
Support will be acknowledged with the donor's name displayed in our Glen Street facing Cabaret window on a seat cutout. The seat may say your name, a business name, or in honor/memory of a loved one.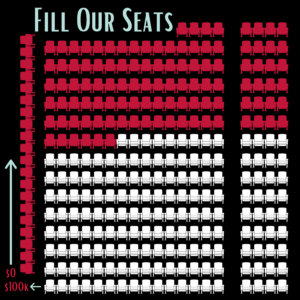 Thank you for your support in the first round of our Fill Our Seats Campaign!
Introduction to Fill Our Seats
Broadway Upstate & the Wood
The Queensbury Hotel & the Wood
Adirondack Theatre Festival & the Wood
ABOUT THE CAMPAIGN
The Wood has surpassed 300 days closed.
Back in October, we provided a statement disclosing that our entire full time staff would be cut to part time beginning November 1st due to the significant financial impact the COVID-19 crisis has had on our operations. Working just 16 hours a week, our staff has since worked hard to continue to uphold our mission despite the circumstances and provide unique and entertaining virtual experiences for the community.
As a new year begins with no end in sight for our closure, we turn to you with transparency and confidence in your support to help us through this impossible time. While we are grateful for the New York State Shared Work Program for our staff and hopeful for the possibility of receiving funding through the Save Our Stages act, the loss we endured in 2020 is one we can't overcome alone.
Our commitment to our patrons and Glens Falls has never wavered, and your commitment to us continues to inspire and encourage us to push forward. We are confident in the Wood Theater's ability to overcome with your help and we look forward to the day we can fill our seats once again and revitalize ourselves as a major player in Downtown Glens Falls' economic recovery.
Until then, we're asking you to join us in our Fill Our Seats Campaign. Our goal is bold, but necessary, and we aim to raise $100,000 by the end of February to avoid further layoffs and leaving the theater empty until we are permitted to reopen. Rather than a thermometer, we'll be tracking our progress with our 294 seats that have sat empty for nearly a year.
Each week during the campaign, you'll hear from a partner of the Wood Theater, a Downtown Glens Falls business leader, a Wood Theater staff member – or just anyone who understands the importance of the Wood in our community. We hope you'll listen and answer our call for support that will impact Glens Falls for years to come.